Glasnevin Hill: BusConnects Ballymun Bus Corridor Proposals, Winter 2020
15 December 2020
---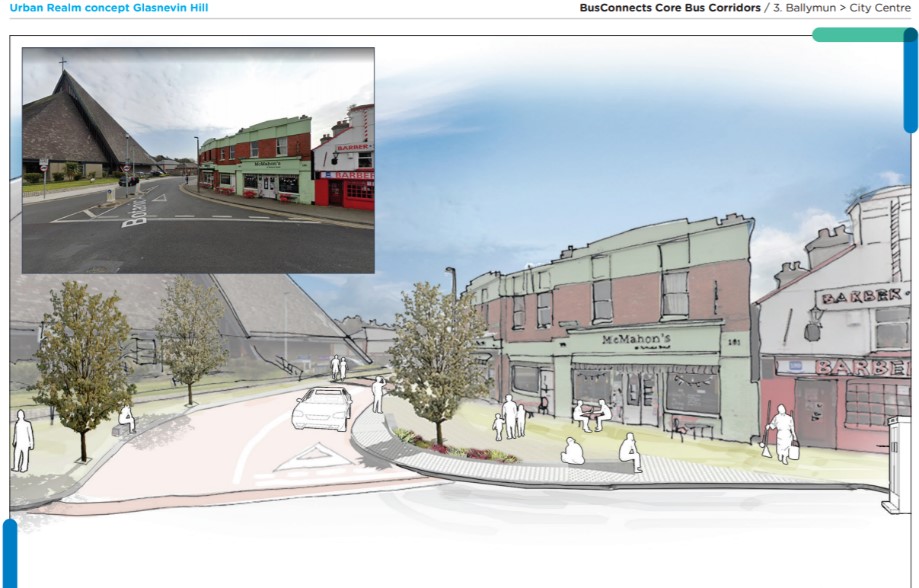 At the start of November, the NTA published their third and final set of proposals for the Ballymun Bus Corridor. The consultation is now open so if you have a strong view on the changes for your area, do make a submission. The deadline is December 16th.
The impact from the proposals on the road layout and traffic flows on the Glasnevin area will be enormous – particularly for car users.
Overall, the changes will deliver improvements for cyclists, reduced travel times for bus users accessing buses on Mobhi Road and Botanic Road, while drivers will face significant changes of route.
Compared with previous rounds of BusConnects proposals, most of the existing trees will now be retained.
Overall, the proposals involve a whole new traffic system for the area encompassing Glasnevin Hill, Old Finglas Road, Ballymun Road, Botanic Road and the adjoining roads in this area.
One way systems will be introduced on the Ballymun Road between Claremount and Church Avenue (one-way southbound only) to prevent it becoming a rat run or relief road between Glasnevin Hill and Griffith Avenue. Additional car parking will be made available on the northern end of Ballymun road before the junction with Griffith Avenue. On Mobhi Road, the northern end of the road close to the junction with Griffith Avenue will become one-way southbound only to general traffic. This is to allow a "bus gate" on the northbound lane at the top of the road.
Northbound traffic coming from the city will be diverted in the first instance at Hart's corner to go via Finglas Road, Old Finglas Road and Cremore Villas. Northbound traffic on Botanic Road will be diverted via the Botanic Gardens, Glasnevin Hill, Old Finglas Road and Cremore Villas.
Local northbound access as far as the top of Mobhi Road is preserved to a large extent. However vehicles wishing to travel from Mobhi Road to Griffith avenue and beyond will have to go via Botanic Road, Glasnevin Hill, Old Finglas road and Cremore Villas.
For cyclists: there will be a continuous cycle lane for westbound cycle traffic on Glasnevin Hill and northbound cycle traffic on Ballymun road. The existing walkway behind Our Lady of Dolours Church that runs parallel to Mobhi Drive will be upgraded to a new two-way cycle track.
For pedestrians, in Glasnevin village, it is proposed to upgrade the junction outside Our Lady of Dolours to improve pedestrian safety, slow car traffic and widen the footpath – see image below.
A new pedestrian crossing will be introduced adjacent to River Gardens. Speed control signage will be introduced on the crossing adjacent to St David's Terrace, River Gardens and the Tolka House. The bus stop outside the Met Éireann office will be relocated close to the Hospital gates.
This is only an overview of the changes and is not exhaustive. For exact detail of the changes, please access http://www.busconnects.ie
Next Steps:
Dec 16th: Deadline for submissions.
Jan. to March 2020: "Preferred route" will be published. Environmental impact assessment report will then be published.
Mid 2021: Statutory Process will commence where application for compulsory purchase order to An Bord Pleanála (ABP) will be submitted. This will involve a statutory consultation and oral hearing.
2022: Works will commence.