United Ireland - Why We Need to Talk about the Future
09 August 2022
---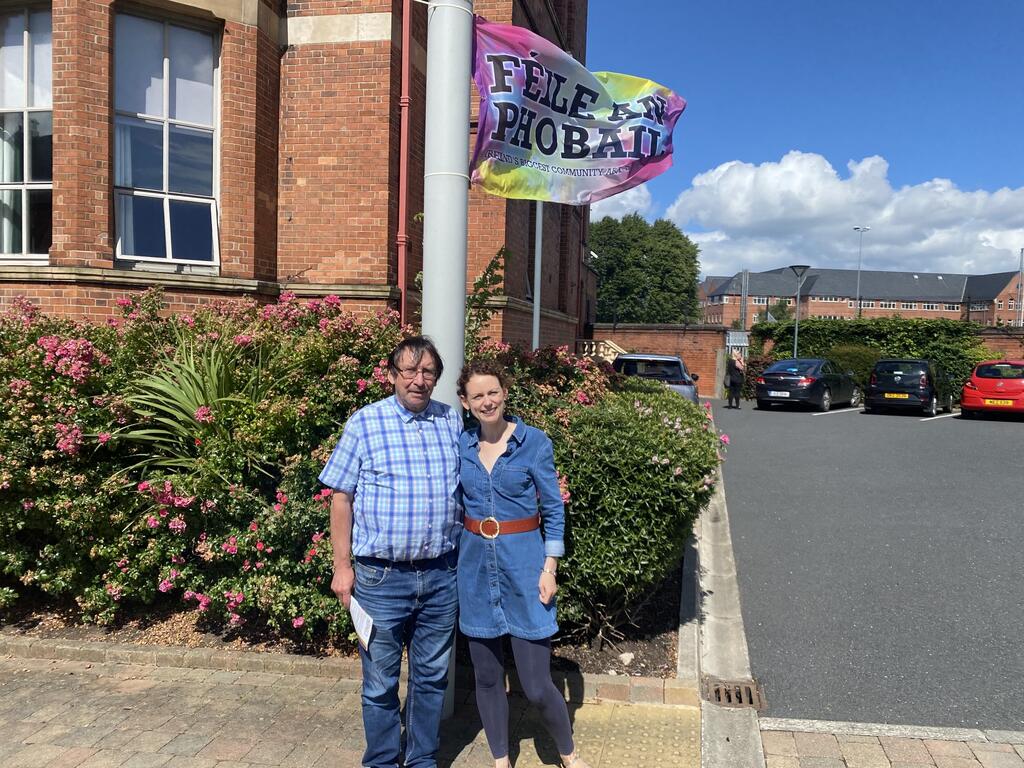 Preparing for a new Ireland- my contribution at Féile an Phobail, August 2022
Go raibh mile maith agaibh as bhúr chuireadh agus tá athas an domhain orm go bhfuilim anseo ar Féile an Phobail i mBéall Feiriste. Is mór an an tabhachtach go bhfuil trí pairtí polataíochta ann inniu maidir le ceist atá fé caibidil agus mar son, táim an bróduil go bhfuilim ann ar son pairti an Lucht Oibre.
Thanks very much for the invitation to speak here today and I'm really delighted to be here in West Belfast at Féile an Phobail. I was saying there I believe it is vitally important that a number of political representatives are here to discuss the question about how we go about achieving that united Ireland, that shared island of Ireland for all its peoples.
This discussion takes place today in the context of Brexit and the wreaked havoc it has wreaked along with the attempted dismantling of the Protocol by the British government. This is an act of absolute recklessness for the livelihoods and lives of people living in the North.
Like so many others, I worry that so much of the progress that had been made in loyalist communities is being disgracefully undermined and that vulnerabilities are exploited- all because certain elements of unionism have no plan for where they want to go in the future.
So while we say all that, the reality of course is that Brexit and the madness with the protocol now means we are also in in really exciting space where there is a real prospect now of progress towards removing the border on this island.
We could talk here about the future institutions and how it would work, but first I want to talk about what we can call "the conversation" about a united Ireland and do so from both a personal and political perspective.
I'm delighted to be here today with my parents in law- Carmel and Cllr Albert Doherty, my husband and our three young kids and we travelled from the Inishowen peninsula in Donegal this morning. Now they live in a community which is located very close to the border, so their lived experience recognises the sheer madness of having a border which divides the Derry hinterland in two.
Even my mother in law was relaying to me that the other day she had to tell the Ukranians that she is trying to help in Carndonagh, if they cross the border to go into Derry and something goes wrong, "that they are on their own". So for the women who are trying to get baby clothes- they are looking at either talking the 30 minute journey to Primark in Derry or an hour to Penny in Letterkenny- it's madness..
For my in-laws, their family members and many of their friends, the North and the border has always been a natural and regular part of their household conversation. Many work across the border, they go to Derry for the big items and every day a copy of the Irish News newspaper comes into the house. In short, the conversation about our island has always been there.
But for me, well I was born and grew up in Cork and like hundreds of thousands of others, have now made Dublin my home. It was the compromise location between Cork and Donegal! But it is the experience of those who live over 300 miles from here that I want to refer to in talking about "the conversation." Because for many, the border, the North is not close by, there is little or no real understanding of what life is actually like in the North and for the most part, many have never been to the North.
And I believe that is an issue.
I was a little different- I grew up in a household where we had a very strong sense of ourselves as Republicans and where I've had a lifelong interest in life in the North and that was because of my own family's history and in particular that of my uncle. But that was really unusual- I was different and the vast majority around me just thought of the North as a place of fear and as a place to avoid.
Twenty-five years on, have things moved on- enormously yes. But I would very much argue that there is a latent uncertainty, a latent distrust and very unfortunately for those of us who passionately believe in the positives that a united Ireland could bring, there are large cohorts who come at this conversation with an inherent conservatism.
Recent polling about a United Ireland by MRBI and the Irish Times has thrown up some really interesting results on what people are thinking about the future of our island. In the south, we know that nearly two-thirds of people say they would vote for a United Ireland. But when we look at attitudes to changing any of the emblems of the Republic- the anthem, the flag etc- more than two thirds are against.
And we can interpret that as either people now wishing to give an inch or rather they have given little thought (because they haven't needed to) about what a united Ireland might look like.
So how do we win people over? How do we make the positive case?
Well firstly, we need more people to come see and experience the North.
I was looking at some of the NISRA tourism statistics recently and it is stark- in 2018 the difference in North- South travel was more than twice (1.3m vs 591,000 trips) South-North travel. And that was an improvement in previous years- in 2014 North-South over night stays was more than four times South North travel.
And I must say that in the South we don't make it easy to get to the North. I had to get a bus from Dublin to Derry on Sunday night- Bus Éireann didn't even have the bus on their website so I had to go to trouble of finding Translink (which would not be familiar to Southerners).
Or the journey from Derry to Dublin- of course we still don't have the A5.
But there is a train- which, from what I can see, no-one ever talks about.
I've taken a few train rides across the world in my time and the Derry to Belfast train is one of the most beautiful train rides in the world. Yet it takes hours, it's not straightforward to get the tickets on-line and it's way too infrequent a service. So that is a tourist attraction waiting to be exploited and marketed to the South and it's just not being done.
In thinking about "the conversation" we also have to look at the media.
So in addition to being worker's rights spokesperson for the Labour party, I'm also cover Arts, Culture, Media agus an Ghaeltacht. And in thinking about the media we consume in the South, so much of the coverage in the North is an overly simplistic representation of two warring parties with little or no other coverage of every day life here.
And I think that also damages the positive conversation about the future of our island. Because if people are already coming to the conversation from a reticent position, then presenting the North solely as a basket-case doesn't do anyone any favours.
The prospect of a border poll is on the minds of many at the moment and for me, there are some serious questions to be asked of its proponents.
Ultimately, we have to ask should a border poll be at the start or the end of a political process?
I believe it has to come at the end. I genuinely think that some of those who repeatedly call for a border poll forget that there is a process and a political conditioning that has to happen.
An answer cant be just demanded, people need to be warmed up- they have to be able to have a picture in their heads of what comes after. Because that is absolutely crucial for the success of the poll itself and importantly the success of what comes afterwards.
So to kickstart that process, I believe there are a number of key steps that need to happen; one is an institutional initiative and the second relates to the type of campaign that is needed to win.
The Government needs to commit to a Citizen's Assembly on the future of our island. The Citizen's assemblies have had an excellent record to date in providing space to looking at the final detail of apparently difficult issues. While many of us support the Taoiseach's Shared Island unit, to date it has failed to deliver on its promise of assessing the big questions and unfortunately, for whatever reason, the Government have not responded positively to calls for a Citizen's Assembly on the prospect of a shared island.
It also important that State bodies and our Local Authorities put planning groups into place to also think about the impact of future changes- in that regard, it's important to acknowledge that Donegal County Council has recently established a cross party Working Group on future Constitutional change and other local authorities, partcularily those located along the border should do likewise.
With regard to any future referendum campaign, I also think there are huge lessons from how the referendum to repeal the 8th amendment was fought and was won in the South.
The fight for reproductive rights in the South was spearheaded by my Party Leader Ivana Bacik and small group of people who had to fight an enormously long and difficult battle to bring us to where we are today. But the referendum on Repeal of the Eighth Amendment was won, because there was a realisation that
things like the language of campaigning had to be changed, it wasn't about ditching the existing language but finding new terms,
the faces of the campaign had to change- so we had what we might call in politics "real people" come out and tell their stories as opposed to it being completely dominated by "politicians" or "experts" and together this was designed to win over people's hearts and
importantly, people need to have a vision for what is coming afterwards.
I think if we reflect on those lessons, then we can go about transforming the hearts and minds of all peoples on this island, we can end partition and have a new and unified island of Ireland.
Before I finish I want to conclude on some economic observations that I think are really important to the question about unity.
Before I became a Senator, I was a trade union official with SIPTU and had the privilege of working with officials right across and up and down this island, working on issues of pay and on the viability of workplaces and I must say it gave a real insight into how companies operate north and south of the border.
At the moment, there is a lot spoken about with regard to the North's trading relationships, who it exports to and imports from, the importance of the protocol and ultimately it's ability to survive within a United Ireland.
But when we look at the data, we see that the North is not hugely export oriented economy – in fact a whopping 68% of all sales made within Northern Ireland stay in Northern Ireland, 6% of sales go by way of exports to the South and 16% go to Britain. So Britain is important but the key point here is that Northern Ireland is not overly reliant on its export relationship to Britain.
The second crucial point relates to the degree of integration between companies North-South and North- East. In 2020, there was 9,639 Northern Ireland companies selling into Britain, but there were 9,841 companies selling into the South. In other words, there are more companies in the North selling into the South than there are Northern companies selling into Britain Now that is really significant- significant in terms of how companies will fare if there was a united Ireland.
Ends